Phase 1 of Made By Us took place during the Beijing Design Week (BJDW) from 27 – 29 November 2013. This phase consisted of three main activities:

1. Office visits Beijing – 25-26 September 2013
We began our visit to Beijing with visits to a number of interesting people and offices, including the Institute for Provocation, MAD Architects, Dashilar area which was a BJDW hotspot, Urbanus Architects, and 798/751 Art and Design district.
2. Mini-symposium "Made By Us: Using Smart Technologies to Repurpose Industrial Heritage" – 27 September
On September 27 The New Institute and The Mobile City, in collaboration with CMoDA, organized the mini-symposium "Made By Us: Using Smart Technologies to Repurpose Industrial Heritage". This was part of an overarching day-long program about smart cities called "The Dao of Being Smart".
Here is the program of the mini-symposium:
Program Mini-Symposium "Made By Us" @BJDWtime: 27 Sept. 2013 15:30 − 18:00
place: CMoDA, Zone A, China Millennium Monument, No.9A, Fu Xing Road, Haidian District, Beijing, Tel: +8610  5980  2315.
version date: 8 Sept 2013
Made By Us: Using Smart Technologies to Repurpose Industrial Heritage
15:30 Welcome by co-hosts CMoDA and The New Institute
15:45 Michiel de Lange on smart & social cities and industrial heritage
16:00  Sander Veenhof – sndrv.nl
16:15 Niki Smit – Monobanda.nl
16:30 Mark van der Net – OSCity.nl
16:45 WU Wenyi – Urbanus.com.cn
17:00  FU Zhiyong and Mustafa Kirwan – Tsinghua University
17:15 Panel discussion
17:45/18:00 Close
Made By Us: using smart technologies to repurpose industrial heritage
The need to meaningfully repurpose former factories is perhaps even more pressing in China than elsewhere. This is partly because of the country's sheer number of heavy and manual industrial plants and partly because the fluctuating demands of the international economy, shifts in labour and environmental regulations, and high worker mobility force frequent adaptation. How can we use digital media technologies for the repurposing of industrial heritage? Can we create awareness of these places' spatial, functional and social qualities among stakeholders and the general public? And, most importantly, can we design interventions that will involve "smart citizens" as makers and co-owners instead of mere spectators? http://themobilecity.nl/madebyus
"Made By Us" mini-symposium about smart and social cities, and using digital media technologies to revitalize vacant factory spaces.
Check out all of the videos of this mini-symposium on our Vimeo channel >>
3. Two-day workshop Made By Us @BJDW
On Saturday 28 and Sunday 29 September 2013 a two-day workshop took place. In this workshop, participants from various professional and national backgrounds worked in three teams of about 4-5 people, to address the reuse of former industrial plants. We worked with the Capital Steel Factory, which is now being repurposed into a creative industry park, as a target location. The challenge is to help design smart media interventions that will engage stakeholders in postindustrial heritage planning for the abandoned factory.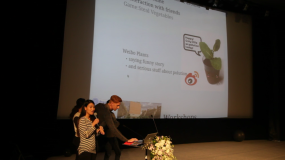 Read the reports of the workshop: report workshop day 1, and report workshop day 2.
Check out the Call for Participation for the two-day workshop Made By Us @BJDW.
Download the Call for Participation – Made by Us @BJDW (pdf ).
More about Made By Us @BJDW
Read the report in Dutch by Edo Dijksterhuis on the Stimuleringsfonds website.
Read a travel report (by Merten Nefs, in Dutch) about the BJDW, with attention for OS City and the Made By Us workshop public presentation, on the Deltametropool website.
See the Made By Us video channel on Vimeo, with all videos of Made By Us at the Beijing Design Week 2013.
The program Made By Us is partly funded by the Netherlands Creative Industries Fund.