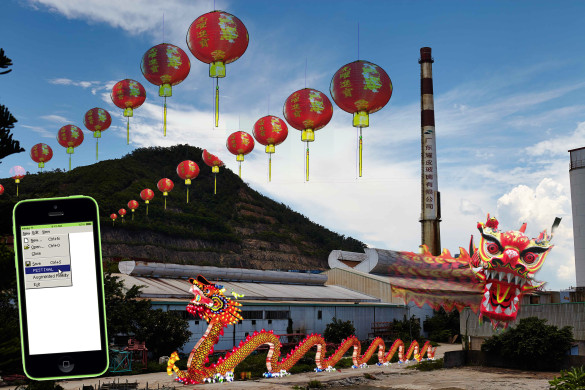 During the Bi-City Biennale of Urbanism/Architecture, the former Guangdong Float Glass Factory will act as a testing ground for a new kind of city-making. With the aid of the Portable Festival App, users are invited to organise imaginary festivals on the factory site according to their own tastes. You can give your festival a title, a theme, an event to be celebrated and even a set of rituals to be performed. Checklists and multiple-choice selectors make it easy to configure aspects such as duration, timing and location.
The app also allows the user to visually style his or her festival using augmented reality. Hang 1,000 Chinese lanterns in the sky or put an image of the festival's celebrity on a public billboard – when visitors view their surroundings through their smartphone screens, all these elements will become visible in an extra visual layer mapped onto the physical world.
The Portable Festival App builds upon a broader trend of cities being increasingly inhabited by numerous data layers. Over the last few years, phones have evolved into tools that make this parallel universe visible. Numerous apps have emerged that use input from the data universe to help us experience the real world.
Ironically, this has come at the cost of being able to see our surroundings. Swamped by an overload of apps and opportunities to connect, many of us keep our eyes glued to our smartphones. Apps have started to address this issue: WeChat provides a scanner that detects like-minded people and friends nearby. But what to do when you meet? That's where the Portable Festival App intends to take over; it allows users to add meaning to an instant gathering of strangers by providing the context of a festival.
Thus, it's not just a visualisation tool for decorating urban spaces with festive ornaments. It's also a tool for socially organising citizens around a common theme. Beyond the festival metaphor, the app empowers anyone to organise an instant event anywhere. The concept of a festival should be interpreted in a very broad way, as a mechanism that helps to open a territory that's new for many people – a world in which material boundaries no longer define what's real and what's not.
Concept & Design:
Sander Veenhof is a Dutch visual artist and designer with a background in computer science. He couples a fascination with the endless opportunities afforded by digital technologies with the skills to program. Best known for organising – uninvited – an augmented reality exhibition at the Museum of Modern Art in New York, Veenhof applies a hands-on research style in reflecting on the impact of the ongoing digitisation of daily life and public and private space, treating the whole world as a programmable environment. His interactive experiments can be seen as prototypes of the semi-digital world of the future, in which data, space and people will be fully interconnected.
Contact:
portablefestival.com
sanderveenhof.com