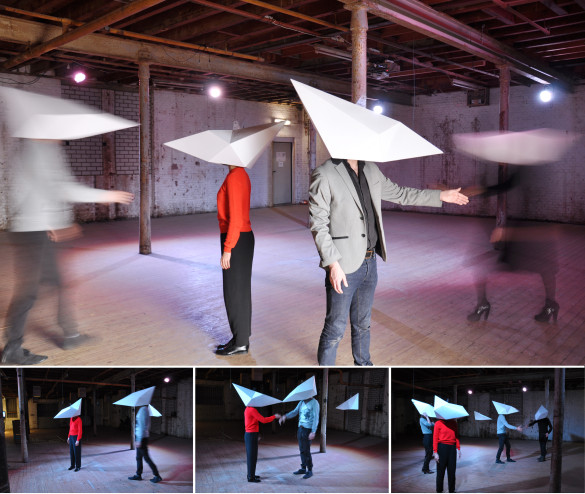 The installation 3RD gradually unfolds itself to its audience. At first it looks like a sculptural decoration: an ensemble of five angular, iceberg-like structures floats in space. On closer inspection, these turn out to be helmets that fully cover the wearer's head and eyes. When a user puts on a helmet, 3RD turns into a media installation, as his or her natural field of vision is replaced by a small screen on the helmet's visor. You see yourself on this screen from a distance, your movements captured and broadcast by a camera surveying the exhibition space.
Now the users become players. They see themselves walking around from a third-person perspective and become their own alter egos, experiencing their own actions as if they were avatars in a game world. The experience of the physical world and the online, virtual enactment of it blur into one. This change of perspective creates a new spatial experience and invites users into playful interactions with each other, creating a surreal sensation at the moment the anonymity of the screen meets the thrill of real physical contact.
As such, 3RD embodies the design philosophy of Monobanda. For them, play is "the most important thing in the world". They see it as an empowering force, as it is about taking action, doing something because it feels good to do it. At the same time, it creates a context for sharing experiences with other people.
In addition, play can transform spaces in a social way. A vacant patch of grass can become a football pitch, an empty swimming pool the place for skateboard tricks. In other words, play imposes a new spatial logic as well as a different mindset that allows users to temporarily suspend social conventions, creating the conditions for trying new things without fear of failure.
The 3RD installation is also an exercise in open-source place-making. The entire game uses hardware and software that is publicly available and downloadable for free, and a pattern for constructing the helmet is accessible online as well. Thus, users can create their own game set and even their own rules. An additional layer is revealed: the concept of an open platform that allows local audiences to appropriate urban spaces in playful new ways.
Concept and realisation by
Monobanda
Dus Architects
In collaboration with
rajivkrijnen.nl
Rezone Playful Interventions
SEMdesign.nl
Monobanda aims to explore and expand the boundaries of games and interaction. Working on both commissioned projects and their own independent projects, they focus heavily on researching and developing news forms of play and meaningful interactivity. Their prototypes push boundaries and trigger discussion around the world.
Monobanda's core aesthetic is 'play'. Inspired by the social interactions that are found on a playground or in a sandbox, where creativity and imagination run free, they then use these principles to create meaningful and engaging projects. Their projects have been shown both nationally and internationally and have won various awards.
Monobanda created 3RD in close cooperation with Amsterdam-based Dus Architects. Dus builds "public architecture": design that consciously influences our daily lives. Social significance is visible at all levels of DUS's work, which ranges from large-scale urban strategies to designs for outdoor breakfasts. DUS sees architecture as a craft and combines research and design with a hands-on approach and a unique use of materials.
Contact:
www.monobanda.eu
www.dusarchitects.com