The Mobile City has organized several events in the past: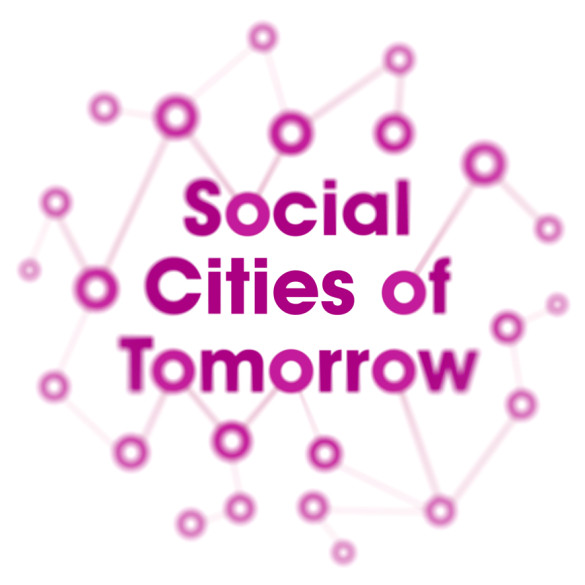 2012 – Social Cities of Tomorrow
Our everyday lives are increasingly shaped by digital media technologies, from smart cards and intelligent GPS systems to social media and smartphones. How can we use digital media technologies to make our cities more social, rather than just more hi-tech?
This international conference, organised by The Mobile City and Virtueel Platform with the support of ARCAM, brought together key thinkers and doers working in the fields of new media and urbanism. Keynote speakers such as Usman Haque, Natalie Jeremijenko and Dan Hill will speak about the promises and challenges in this newly emerging and highly interdisciplinary field of urban design. The keynotes were accompanied by presentations of 'showcases' from various disciplines, such as architecture, art, design, and policy.
A preconference workshop was held at ARCAM, Amsterdam for a select, interdisciplinary group of designers, programmers and digital creatives. The aim of this experimental workshop was to bring together local stakeholder organisations, and participants from various professional and national backgrounds to collaborate in real-world social design challenges.
We have archived the posts from the event website on our own website here.
2010 – Designing the Hybrid City
In 2010, The Mobile City co-organized the week-long program Adaptation: Designing the Future City at the Dutch Culture Center in Shanghai. Our main event was called 'Designing the Hybrid City'. It explored the role of digital technologies in urban design. Participants from a large variety of countries and professional backgrounds took part. The events took place in the Dutch Culture Center in Shanghai.
We collaborated with Virtueel Platform, Shanghai eArts, V2_, Cybercity Ruhr and Dynamic City Foundation. The event 'Designing the Hybrid City' was co-curated with Virtueel Platform. We received kind support from the Netherlands Ministry of Education, Culture and Science and the Netherlands China Arts Foundation.
Full report, impressions, etc. about this event here  >>
2009 – Connectivity @IABR

In 2009, The Mobile City organized a series of events at the International Architecture Biennale Rotterdam, as part of the 'Connectivity' theme. This included a temporary exhibition, a keynote talk, and a one-day workshop with US artist, architect and researcher Mark Shepard, who made the Sentient City Survival Kit. The Mobile City gave a keynote talk about how media technologies change the profession of architects and urbanists at the Day of the Young Architect.
We collaborated with the IABR, the Netherlands Architecture Institute (NAi) and the Royal Institute of Dutch Architects (BNA).
Full report, impressions, etc. about this event here >>
2008 – The Mobile City conference

In 2008, The Mobile City organized its first conference in collaboration with the Netherlands Architecture Institute. The conference brought together academics, urban professionals and media designers to explore the question: what happens to urban culture when physical and digital spaces merge? Keynote speakers included Stephen Graham, Christian Nold, Malcolm McCullough and Tim Cresswell
We collaborated with the Netherlands Architecture Institute, and with the research groups New Media, Public Sphere and Urban Culture (University of Groningen), and Playful Identities (Erasmus University Rotterdam & University of Utrecht). The conference was realized with the kind support of the Rotterdam municipality, the Rotterdam Trustfonds, and the Netherlands Organisation for Scientific Research
Full report, impressions, videos, slides, etc. about this event here >>