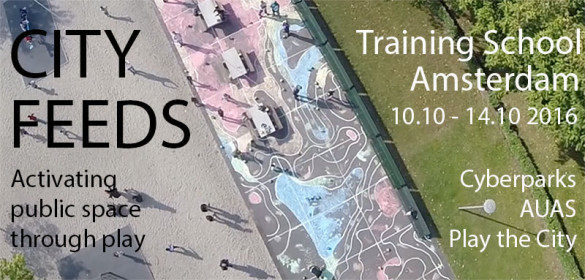 October 10-14 Amsterdam
Deadline: August 28
Open call (http://cyberparks-project.eu/training-schools) to participate in the Games for Cities training school, taking place in Amsterdam from October 10-14 2016. The Mobile City is one of the partners in this project.
In the Games for Cities Training School, participants will explore the design of playful installations and urban games in public spaces as a means of 'citizen empowerment'. In particular, participants will investigate how play and games can be used to engage and activate citizens around the advent of a 'circular economy'.
In a five-day's programme, participants will work in small interdisciplinary teams towards the design of a prototype for a city game that is to take place in the urban public space in Amsterdam. The programme includes lectures from and discussions with city game designers and leading researchers in this field. Participants will also be encouraged to share and exchange their own knowledge and experiences.
Participation is open to early stage designers, practitioners and researchers. Selected participants will receive a stipend for travel & lodging.
More information and how to apply: http://cyberparks-project.eu/training-schools