We are very pleased to announce the Call for Papers for the Hybrid City Conference that takes place in Athens from September 17-19 2015, where The Mobile City's Martijn de Waal will be giving a keynote address.
All the info you need can be found at the Conference Website
Deadline for extended abstract submissions: 30/3/15
Response to authors: 22/4/15
Camera ready full paper submission: 22/6/15
ABOUT
Hybrid City is an international biennial event dedicated to exploring the emergent character of the city and the potential transformative shift of the urban condition, as a result of ongoing developments in information and communication technologies (ICTs) and of their integration in the urban physical context. It aims to promote dialogue and knowledge exchange among experts drawn from academia, as well as researchers, artists, designers, advocates, stakeholders and decision makers, actively involved in addressing questions on the nature of the technologically mediated urban activity and experience. The second installment of the Hybrid City, that took place in 2013 boasted seven keynote speakers, sixty-eight paper presentations and diverse parallel events, that were documented in the printed volume of proceedings.
Hybrid City Conference 2015 in Athens, Greece will consist of three days of paper presentations, panel discussions, workshops and satellite events, under the theme "Data to the People". The events are organized by the University Research Institute of Applied Communication (URIAC), in collaboration with New Technologies Laboratory, of the Faculty of Communication and Media Studies, of the University of Athens. The main venue of the conference is the central, historic building of the University of Athens, while workshops, projects' presentations and parallel events will take place in other University venues and collaborating centers and institutions, in the center of Athens
So far in the 21st century, we have experienced a multi-faceted crisis that's challenging the current structural paradigm at a global scale. This crisis is not only economic; it is also social, political and environmental. As such, it has a very prominent urban dimension, exposing cities to a diverse spectrum of distress. Acute natural disasters -earthquakes, fires, or phenomena related to climate change; floods, severe snowfall, fires etc.- precarious access to basic resources such as food and water, lack of opportunities for employment, inefficient social services, e.g. healthcare and education, along with ever increasing unforeseeable acts of violence –a complex and manifold phenomenon on its own right- render living in urban areas vulnerable.
The third Hybrid City Conference seeks to investigate Information Communication Technologies (ICTs) as means of supporting more Sustainable Cities and Resilient, Self-Reliant Communities and for empowering Citizens. By proclaiming "Data to the People" the Hybrid City Conference adopts a citizen centered approach and seeks to highlight bottom-up projects and initiatives and processes of technological mediation, which assist individuals, communities and cities in responding and adapting to challenges.  The Hybrid City Conference aims to offer insights into the complexity of factors that weaken the city fabric and affect urban wellbeing. Furthermore, it aims to investigate the potential of ICTs to support proactive and collective design towards future cities, focusing on real needs and away from a smart-everything rhetoric.
Hybrid City cordially invites papers both employing a theoretical and/or a practical approach that present concepts, case studies, projects, works of art and best practices promoting the discussion on the theme. Emphasizing the inherently interdisciplinary nature of technologically mediated urban activity, we welcome proposals discussing concepts or documenting projects of urban innovation, that through originality contribute to shaping the future of the hybrid city and offer useful insights to the hybridization process of the urban environment.
Submissions may critically examine the following topics, or suggest other relevant lines of research within the Hybrid City context:
Environmental sensing and the Internet of things: regaining control
Open urban data, capturing and visualization
Environmental perception, cognition, immersion and presence in the context of hybrid urban spaces
Psychosocial perspectives into the impact of locative and pervasive media use
Placemaking, place attachment and place identity in the hybrid city
New public spaces: From creative spatial re-use to urban farming
Peer to peer urbanism: From open source to doing it with others
Collaborative economies and sharing cities practices
Urban self-reliance: Alternative collectives and support networks
Resilience and sustainability: Emerging citizen-driven toolkits, methodologies and prototypes
Artworks, and urban interventions for citizen empowerment
Transmedia location-aware storytelling
Performative bodies, gendered spaces and technofeminism in the Hybrid City
Infrastructural fails and alternative communication systems: Critical perspectives and responses to stacktivism
Autonomous, offline file-sharing and communication networks
Open hardware and sustainability
HC.15 Call for papers download
Keynote speakers confirmed so far are:
Dr. Dr. Norbert Streitz (Ph. D. in physics, Ph. D. In psychology) is a Senior Scientist and Strategic Advisor with more than 30 years of experience in information and communication technology. He is the founder and scientific director of the Smart Future Initiative (SFI) which was launched in January 2009. From 1987-2008, he was at the Fraunhofer Institute IPSI (previously GMD-IPSI) in Darmstadt, Germany, where he held different positions as Division Manager and Deputy Director. At IPSI, he initiated and managed research effort in multiple areas. A prominent example is the research division "AMBIENTE – Smart Environments of the Future" founded by him in 1997. He also taught at the Department of Computer Science of Darmstadt, he was Assistant Professor at the Technical University Aachen (RWTH), Germany, teaching and doing research in cognitive science and human-computer interaction and founding the ACCEPT-Group (AaChen Cognitive Ergonomics ProjecT).
His research activities cover a wide range of areas: Human-Computer Interaction, Hypertext/Hypermedia and Computer-Supported Cooperative Work (CSCW), Ubiquitous Computing and Ambient Intelligence, Interaction and Experience Design in the context of Hybrid (real and virtual) Worlds and more recently Smart Cities. In particular, since 2007, he is working on Smart Hybrid Cities where the guiding objective is the ambition to develop a Humane City.
For more info please visit: http://www.smart-future.net/8.html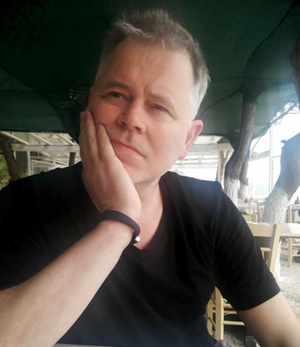 Mike Phillips, is Professor of Interdisciplinary Arts at Plymouth University, the Director of Research at i-DAT.org and a Principal Supervisor for the Planetary Collegium.
His R&D orbits a portfolio of projects that explore the ubiquity of data 'harvested' from an instrumentalised world and its potential as a material for revealing things that lie outside our normal frames of reference – things so far away, so close, so massive, so small and so ad infinitum (www.op-sy.com).
He manages the Fulldome Immersive Vision Theatre (www.i-dat.org/ivt/), a transdisciplinary instrument for manifesting (im)material and imaginary worlds and is co-editor of Ubiquity, The Journal of Pervasive Mediahttp://www.ubiquityjournal.net/
Phillips is an active member of an international transdisciplinary community that engages with immersive, interactive and performative technologies. He sits on the ISEA International Advisory Committee, the AHRC Internet of Things Advisory Board, Arts Council England SW Digital Reference Group, the TSB Internet of Things Special Interest Group and is a founding Partner and Organiser of FullDome UK (www.fulldome.org.uk/).
For more info please visit: https://www.plymouth.ac.uk/staff/mike-phillips , http://i-dat.org/
Martijn de Waal is the author of "The City as Interface. How Digital Media Are Changing the City". He is also a co-founder of the Mobile City, an international research platform that since 2007 investigates the role of digital media in urban culture and urban design. He is a researcher on Citizen Empowerment at the Amsterdam University of Applied Sciences, and an assistant professor at the department of Media Studies, at the University of Amsterdam. In 2009 he was a visiting scholar at the Center for Civic Media at M.I.T. in Cambridge, MA.
For more info please visit: www.martijndewaal.nl ,www.thecityasinterface.com
ORGANISING COMMITTEE
Dimitris Charitos, Assistant Professor at the Faculty of Communication and Media Studies, University of Athens, Greece.
Michael Meimaris, Professor at the Faculty of Communication and Media Studies, University of Athens, Greece.
PROGRAMME COMMITTEE
Daphne Dragona, Curator / Researcher, Faculty of Communication and Media Studies, University of Athens, Greece.
Mike Phillips, Professor of Interdisciplinary Arts at Plymouth University, UK, Director of Research at i-DAT.org and a Principal Supervisor for the Planetary Collegium.
Iouliani Theona, Architect / Researcher, School of Architecture, National Technical University of Athens, Greece.
Penny Travlou, Lecturer in Cultural Geography and Theory at the Edinburgh School of Architecture and Landscape Architecture, University of Edinburgh, UK.
Martijn de Waal, Researcher on Citizen Empowerment at the Amsterdam University of Applied Sciences, Assistant Professor at the department of Media studies at the University of Amsterdam, Netherlands.