Last year The Mobile City was a partner in the project Rezone Playful Interventions. In this project three teams of an architect and a game studio created a temporary playful urban intervention for a near-vacant factory at the edge of the city center of Den Bosch. The three teams consisted of Maurer United x Marieke Verbiesen, DUS Architects x Monobanda, ZUS Architects x Fourcelabs.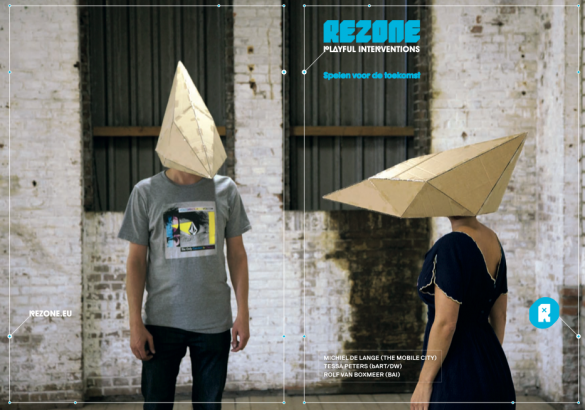 In spring we presented a publication called "Rezone Playful Interventions – Spelen voor de toekomst" (in Dutch – Rezone Playful Interventions – playing for the future). This happened at a closing event in the Willem II Fabriek in Den Bosch. I'm a little slow in uploading the publication, but here it is…
The publication contains guest contributions by:
– Klaas Kuitenbrouwer (Het Nieuwe Instituut) – Klaas has organized a series of meetings between architects and game developers called "Shared Space".
– Hans Venhuizen (bureau Venhuizen) – Hans uses games to study the role of culture in urban planning.
– Anne Seghers & Zineb Seghrouchni (Studio Papaver) – Anne & Zineb developed the alternate reality game "Leve de Krimp!".
Download the publication here: Rezone_Playful_Interventions-Spelen_voor_de_toekomst (pdf 2 MB)
Read the introduction to the publication below (in Dutch).
Introductie Rezone Playful Interventions
Michiel de Lange
Wat gebeurt er wanneer architecten en game-ontwerpers samen een spelervaring bedenken om een leegstaande fabriek nieuw leven in te blazen? Hoe kan spel verschillende groepen mensen bij elkaar brengen om het over de toekomst van die fabriekslocatie te hebben en hen zo mede-eigenaar van stedelijke ontwikkelingen te maken? In het project Rezone Playful Interventions werkten drie teams van vernieuwende architectuur- en stedenbouwbureaus en gamestudio's samen aan een ruimtelijk spelontwerp voor twee verdiepingen van Mengvoederfabriek De Heus aan de rand van het centrum van Den Bosch. Deze fabriek is deels nog in gebruik maar staat op het punt om verlaten te worden. Het doel was om bezoekers, buurtbewoners en andere stakeholders in een vroeg stadium op een speelse manier te betrekken bij deze locatie en bij kwestie van de dreigende leegstand van industrieel erfgoed. Het project was een initiatief van culturele organisaties het Bosch Architectuur Initiatief (BAI) en de Digitale Werkplaats (DW) in Den Bosch, in samenwerking met Michiel de Lange van The Mobile City.
In Nederland staat volgens cijfers van de NVM uit februari 2014 meer dan 8 miljoen m2 commercieel vastgoed langdurig leeg. Dit komt mede door de opkomst van digitale informatietechnologieën, toegenomen mobiliteit, het uitbesteden van productie naar elders en het financieel-economisch tij. Leegstand heeft gevolgen voor de stedelijke cultuur. Leegstand lijkt vooral een economische kwestie: kantoren worden niet gebruikt en dat is zonde. Men vergeet vaak de sociale en culturele kant van het verhaal. Leegstand heeft een negatieve invloed op de identiteit en betrokkenheid van mensen en de leefbaarheid van buurten. Wanneer mensen en bedrijven vertrekken, verdwijnt ook kennis, ambacht en innovatiekracht. Zo kunnen steden in een neerwaartse spiraal terechtkomen van leegstand, afnemende leefbaarheid en participatie, toenemende leegloop en krimp. Dit raakt vooral kleinere Nederlandse provinciesteden. Het besef groeit dat de manier waarop we steden maken en beheren anders moet: niet langer top-down en louter institutioneel gedreven maar door het betrekken van belanghebbenden die eigenaarschap voelen bij een kwestie zoals leegstand.
Voor leegstaande industriële locaties lijkt sloop een oplossing. Maar niet in het geval van architectonisch erfgoed, zoals De Heus. Hoe kunnen we lege fabrieken op een creatieve manier hergebruiken en hoe betrek je hierbij diverse partijen die hierbij een belang hebben of zouden kunnen hebben? Volgens de initiatiefnemers van Rezone Playful Interventions ligt de mogelijke waarde niet zozeer in economisch gedreven langetermijnplannen maar in tijdelijke culturele invullingen van dit soort bijzondere locaties met een sterke uitstraling.
In deze publicatie kijken we naar de rol van spelinterventies in het revitaliseren van stedelijke leegstand. We beginnen bij het ontstaan van Rezone Playful Interventions uit de samenwerking tussen twee heel verschillende partners, BAI en DW. Dan komen de samenwerkingen en projecten van de drie teams aan bod. In een beschouwend essay reflecteren we op de rol van spel in het activeren van de stad en het creëren van een gevoel van 'eigenaarschap'. In de conclusie blikken we terug op het project, formuleren we een aantal lessen en kijken we vooruit naar hoe dit voorbeeld nagevolgd zou kunnen worden. De publicatie is verder doorspekt met uitspraken van makers en initiatiefnemers.