Over the last few years, digital media has started to change the experience of the city in many ways. First, various parties in the city have started to produce, collect and publish lots of data about urban life. These data can be used to get new, real-time insights in social and spatial conditions, offering opportunities to manage cities more efficiently as well as singling out opportunities for both private and communal action.
Second, digital media platforms have emerged for both citizens and institutions to map problems, propose solutions or express desires about all kinds of issues or locations and then come together in action to realise them. These platforms can be used to organize and mobilize publics and provide them with tools to come into action or take resources under a 'commons' management.
Due to these changes the whole process of 'city making' is changing. It's urban society itself that is changing through new media usage. This shift seems to conflict with traditional approaches of city planning. These new technologies create an urban culture that is dynamic, fast and constantly on the move, making it ever more difficult for the development of the built environment to catch up. There is a clear incompatibility between the rhythms of physical construction and the rapid changes in the wider urban context. We simply cannot build cities in the same ways we do with websites.
However these same changes could also provide opportunities for the process we call 'city making'. They could make involvement with urban issues more open, transparent and dynamic. This provides opportunities for both institutions, designers as well as citizens, at the same time shifting the relations between these parties. In other words we need city making processes that are geared to 'smart citizens'.
A word of caution is in its place here: The use of new media and infinite connectivity among urbanites is not a panacea to all urban problems. The possibilities for widespread participation provided by new media make it tempting to use participation as an excuse for policy makers and private developers to offload their responsibilities, without providing any real options to the public.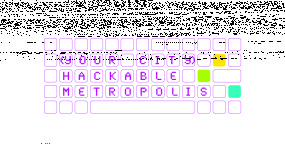 The goal of Amsterdam Hackable Metropolis is to research how these three parties (designers, institutions, citizens) can work together in new ways towards a democratic process of city making. This may mean that roles and relations are changing, where the new role of the designers and institutions is shifting from that of a top-down masterplanner to a party that creates opportunities around existing processes, and that make the city 'hackable' for its citizens. We will do this by analyzing current digital platforms for city making, and reflect on the changing roles of involved stakeholders. Further on, it will lead to the creation of a designer's toolkit for city making, which could provide a common language among designers, citizens, governments and private developers.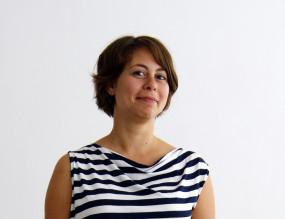 As an embedded researcher, in the next 12 months, Cristina Ampatzidou will investigate the affordances of new media technologies for 'city making' and the changing roles of both professional designers, policy makers as well as citizens in that process. Graduated with distinction on Architecture from the Aristotle University of Thessaloniki, Cristina holds a Master of Urbanism from TU Delft. She has worked for several architecture offices in the Netherlands and has been a collaborator of Play the City! Foundation and the Architecture Film Festival of Rotterdam. Her interests evolve around the changing authorities in city planning, the emergence of collectivities on a local level and their influence by new media. Her goal is to discover how architects, designers and urban planners can redefine their roles within a socially responsible city-making process. Cristina has been a guest teacher in TU Delft and is a regular contributor in Uncube and Bettery magazines. She is also a founding member of Beforelight, an artists' collective working on lighting design and installations.