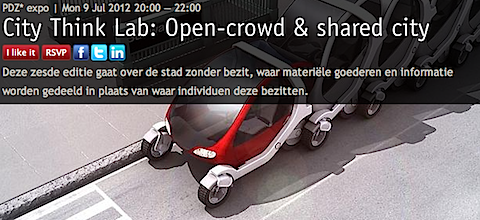 Porting the logics of online culture to the city is a big theme nowadays. This is an interesting evening about redefining 'ownership' in the contemporary city (in Dutch):
Naast het delen van auto's ontstaat steeds meer uitwisseling van goederen en informatie maar ook van plekken tussen bewoners. Meestal binnen een stad maar soms ook in verschillende steden, bijvoorbeeld huizenruil tijdens vakanties. Welk ideaal wordt met een gedeelde stad nagestreefd en wat is de juiste balans tussen open-crowd en instituten? Van belang hierin is vertrouwen onderling, maar ook in techniek en organisatie. Dit leidt tot nieuwe vormen van collectiviteit op verschillende schaalniveaus. Met de buren deel je je tuingereedschap, voor je oldtimer heb je een ander netwerk, en op iens.nl deel je met de hele stad je bevindingen over restaurants. Hoe organiseer je het noodzakelijke vertrouwen voor een open-crowd en shared gemeenschap? En wat kunnen we daarbij leren van andere gemeenschappen? Welke technische aspecten zijn nodig om het goed te kunnen organiseren en speelt sociale media hier een rol in?
ma 9 jul 2012 20:00 — 22:00
Free entrance, registration required.