Many interesting events happening at the same time right now in the Netherlands…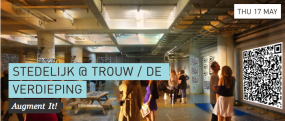 4 – 6 pm ('Poetry on the Screen program') / 8 pm – 1 am (Augment It! program)
presale € 10 | door € 10 | trouwe honden € 9 | club
16.00 – 01.00 | doors open 16.00
The Stedelijk Museum and TrouwAmsterdam are very pleased to present Augment It! This special program in the TrouwAmsterdam building is devoted to all the possible forms of Augmented Reality (AR) that artists, poets, architects, and designers are experimenting with at the moment. With an extensive exhibition in De Verdieping, lectures in the clubroom, AR performances throughout the building, and a dazzling finale with an AR DJ, Augment It! presents all the many different possibilities of AR today!
Augmented Reality involves complementing reality with virtual digital images. In a search for the seamless interface between man, machine, and reality, a great deal of work is done to develop AR, for example, using special spectacles, smartphones, or webcams. But what are the latest trends? What can poets do with this new medium? What does AR DJing look like? How does the human body relate to this virtual reality? Augment It! will answer this and many other questions.
The afternoon and evening programs of Augment It! consist of the following elements:
Augmented Poetry
The latest presentation of "Poetry on the Screen," in which six teams of poets and designers have experimented with AR on mobile screens (smartphones, iPads, etc.) specifically for this presentation,. In other words, the first AR poetry in the world.
With: Arnoud van Adrichem, Ines Cox, and Lauren Grusenmeyer; Wim Brands and Max Kisman; Maarten Doorman, P.J. Roggeband, and Nils Muhlenbruch;Hélène Gelèns and Luis Angel Rodil Fernandez;Saskia de Jong and Rens van Meegen; and Elmar Kuiper and Selby Gildemacher.
Presenters and moderators: Rita Raley (University of California Santa Barbara, USA; editor of Electronic Literature Collection Vol 2) and Margriet Schavemaker (Stedelijk Museum, Amsterdam).
During the evening program Augment It!, visitors will be offered the opportunity to meet with the creators of 'Poetry on the Screen' on the balcony in the club hall at 9 p.m.
Augmented Art
The entire De Verdieping site is filled with a marker-based AR exhibition, composed by AR artist and guest curatorSander Veenhof. The exhibition comprises an international selection of leading contemporary AR work.
Including works by: Will Pappenheimer, Mark Skwarek,James Alliban, Tamiko Thiel, Viktor Baltus.
Augmented Body
Performances and installations will take place in various parts of the TrouwAmsterdam building, in which the human body becomes the interface or navigation point of an augmented reality or the augmented data by which we are surrounded.
Including contributions by: Karen Lancel/Hermen Maat,Bram Snijders, and Jeremy Bailey.
Augmented DJ
The evening concludes with a spectacular augmented reality DJ act presented by Resolume and Patrice Bäumel(Trouw, Amsterdam).
Augment It Yourself!
The boundaries between the viewer, artist, and curator become blurred in Augmented Reality. Do you have something to contribute to the exhibition? Put an example of your work on your smartphone, and during the evening (or before) put it on the enclosed marker, using the free "Stiktu" app. Do you create virtual 3D sculptures? Let us know if you have done anything like that, on the GPS coordinates 52.35451699670258, 4.9129486083984375.
Augmented Lectures
In addition to the program outlined above, there are various lectures and debates that examine the advantages and disadvantages of AR. Is the world improved by AR? Is AR a temporary craze or the start of the seamless interface between man, machine, and reality that we have been dreaming of forever? How can institutions such as the Stedelijk and TrouwAmsterdam, venturing into the virtual domain, make an effort to be innovative themselves in this way?
With contributions by: Will Pappenheimer.
Entrance price: € 10 / € 7,50 (students) for evening program / afternoon program is free of charge
Please make a reservation for the afternoon program 'Poetry on the Screen' via www.letterenfonds.nl/rsvp.