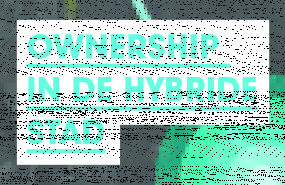 How do we design urban technologies that engage and empower 'publics' (groups of people) to act on communally shared issues? That is the main theme of a new study launched by The Mobile City and Virtueel Platform.
In this study we present "ownership" as an alternative design approach. How can we employ new technologies to keep our ever more complex cities livable and lively for humans? How can we design cities where citizens feel they belong, and feel the city belongs to them as well… where they have the power to act on communally shared issues? In short: how can digital media aid in strengthening a sense of "ownership" among urbanites?
You can download Ownership in the Hybrid City the report here. Een Nederlandse versie is hier beschikbaar
The workshop & conference Social Cities of Tomorrow that we organized together with Virtueel Platform and Arcam also addresses these issues. See the conference site for more information.