This is an interesting call, many overlaps with the 'commons' themes addressed in our Social Cities of Tomorrow conference: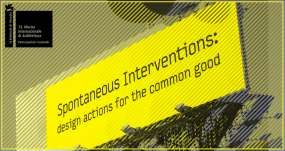 Spontaneous Interventions: design actions for the common good is the theme of the U.S. Pavilion at the 13th International Venice Architecture Biennale (Fall 2012). In recent years, there has been a nascent movement of designers acting on their own initiative to solve problematic urban situations, creating new opportunities and amenities for the public. Provisional, improvisational, guerrilla, unsolicited, tactical, temporary, informal, DIY, unplanned, participatory, open-source—these are just a few of the words that have been used to describe this growing body of work.
Spontaneous Interventions will frame an archive of compelling, actionable strategies, ranging from urban farms to guerilla bike lanes, temporary architecture to poster campaigns, urban navigation apps to crowdsourced city planning. These efforts cut across boundaries, addressing architecture, landscape, infrastructure, and the digital universe, and run the gamut from symbolic to practical, physical to virtual, whimsical to serious. But they share an optimistic willingness to venture outside conventional practice and to deploy fresh tactics to make cities more sustainable, accessible, and inclusive.
Submission
In the open spirit of the theme, we are inviting protagonists to submit projects for consideration for inclusion in Spontaneous Interventions. Below is a set of criteria for the types of projects we are looking for.
project was initiated by the architect/artist/planner/landscape architect/hacker/activist/citizen (in other words, no one asked for it), OR was initiated by an alternative client, for example, a non-profit or a community group
project is publicly accessible and serves the common good
project improves a problematic condition (solves a problem by making a place more accessible, inclusive, sustainable, beautiful, etc.)
project is located in an urban context or tackles urban issues in the United States
project is participatory in nature, or open access, and serves an underserved or overlooked constituency
project is realized, deployed, in action or use (not theoretical)
project may be a physical intervention in an urban context, or an information, communication or digital project that improves people's comprehension, navigation and access to a city.
We are looking for project that not only meet the above criteria, but also are distinguished by characteristics such as charm, wit, material invention, creative financing, community engagement, effectiveness, and beauty. If your project satisfies several or most of these criteria, please send a short (1 to 2 paragraph) description as well as a few images to clh@ifud.org or venice@ifud.org.
SUBMIT YOUR PROJECT BY FEBRUARY 6 IN ORDER TO BE REVIEWED IN OUR NEXT CURATORS' MEETING.
The Venice Architecture Biennale  is the most prestigious architecture event in the world. Now in its 13th edition, the Venice Architecture Biennale was formally established in 1980 and is held every other year (alternating with the Venice Art Biennale, which was first held in 1895). For the 12th edition, held in 2010, 53 countries participated in the Biennale, which was attended by 170,000 visitors.
The 13th edition will be held from August 29 to November 25, 2012 (press preview August 27–28). On December 27, 2011, British architect David Chipperfield was appointed the director of the Biennale, and he outlined the theme Common Ground at a meeting of commissioners held in Venice on January 17. Representatives from 41 countries attended the meeting.