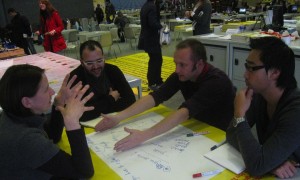 Image: The Mobile City / NAi / IABR 'Connectivity' workshop during the International Architecture Biennale Rotterdam in 2009.

We just updated the Workshop page on our website with the full announcement and call for participation. The basic idea is that teams of about 6 participants will be working on a real-world case. Various urban stakeholders – a local munipality, a cultural organisation, a housing corporation, an architecture office – bring in a complex issue in which digital media may be employed and that they wish to crowdsource to a mixed group of city-lovers.
Do you want to help solve an actual urban issue in a mixed team, during three intensive days in Amsterdam? Visit the workshop page to find out how you can, and why you should!