The Amsterdam #IoT community is organizing this workshop, with a focus on air quality data: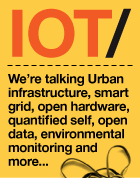 Where's the data? Technology has progressed to the point that we as citizens with concerns or interests can leverage open source hardware and software together with cloud platforms like Pachube to quickly and cheaply build the systems we need to get the data we want. It's time we put theory into practice and come together as a community to produce a project which illustrates the possibilities available to us.
This workshop, focused on air quality data, will bring together a group of people with different skillsets — some technical, some creative, some with domain expertise — who will move from concept to working plan by the end of the session. We will answer questions like: Why is air quality data important? How will we gather it? Who will build what and how? What will we do with it? How will we fund this? The goal will be to have a persistently available, open air quality sensor network for use permanently and by anyone within 90 days.
This workshop will be followed by a working session/hackathon in December during which the hardware, web services, and deployment will be tackled.
Pachube will be contributing 50 Nanodes as a base for the hardware development.
Coffee, lunch, and a reception will be provided.
Hosted by Casper Koomen (Pachube Amsterdam community mgr)  and Sara Córdoba Rubino of Booreiland.
Casper is a user experience and concept developer. In his company Combustic, he develops new product and business concepts for a wide range of clients (SME, multinational, government) in many domains (mobile, media, web). He loves to connect people, ideas, business oportunities and technology.
Sara graduated as an industrial designer in 2004 and finished a master program on Strategic Product Design in 2008. She began designing interactive exhibitions for children, then shifted to the world of services and packaging. Currently Sara works at Booreiland as project manager and researcher on Meta Products.
Friday, November 18, 2011, 10:00 AM