Sharon Switzer sent us a call for submissions for the Toronto Urban Film Festival, which uses outdoor screens in public settings:
—
The Toronto Urban Film Festival (TUFF), unique in North America, is a public film festival that reaches 1.3 million daily commuters on the ONESTOP TTC subway platform screens. This year's guest judge is Atom Egoyan.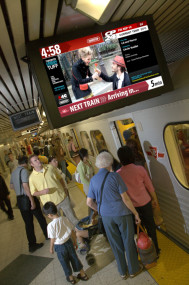 Urban-themed films from across Canada and around the world play every 10 minutes on 300 screens in 60 subways stations across Toronto.
This September the 5th annual TUFF will take place on the ONESTOP Network of subway platforms screens throughout the TTC. Each year, at the same time as TIFF, TUFF screens the best films from of hundreds of submissions. In 2011 we are raising the bar – showcasing truly unique and wholly creative film, video and animation.
TUFF is open to both Canadian and international submissions. All films screened are silent and exactly one-minute in length.
Call for Submissions – Deadline: July 15, 2011
Filmmakers, animators and video artists are invited to submit one-minute silent films for an urban public. TUFF is open to Canadian and international artists; pays artist fees; and awards thousands in cash and prizes.
Internationally acclaimed Canadian filmmaker, Atom Egoyan, will guest judge the fifth annual Toronto Urban Film Festival (TUFF), awarding the top prizes of the festival!
The Toronto Urban Film Festival (TUFF), the only festival of its kind in North America, reaches over 1.3 million subway commuters daily. Recently named one of MovieMaker Magazine's '20 Coolest Film Festivals,' TUFF takes place September 9 – 18, 2011 on Onestop platform screens across the Toronto subway system.
Deadline for submissions to TUFF is July 15, 2011. TUFF is free to submit prior to June 1, 2011. After that date, there will be submission fees: $10 (June 1 – June 30) and $15 (July 1 – July 15). Films can be submitted through the TUFF Website.

http://www.torontourbanfilmfestival.com