Report of an evening for architects at the Chamber of Commerce, Amsterdam, 3 March 2011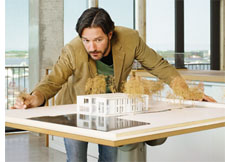 Last week I attended the meeting "Chances for the enterprising architect" (PDF, announcement in Dutch). The evening was organized by the Amsterdam Chamber of Commerce in collaboration with innovation network Syntens and the Royal Institute of Dutch Architects (BNA). Topic of the evening was how the profession needs to change under the influence of the financial crisis. Hard times mean that architects need to reconsider their professional practice:
New work is not up for grabs at the moment. Construction plans have been frozen or are executed in phases. Especially for the smaller offices it is difficult to squeeze oneself in. Nevertheless, we believe that there are more opportunities that may appear at first sight. We want to inspire them to recognize, create and utilize these chances.
We have repeatedly claimed with The Mobile City that new media technologies profoundly change urban life, offer new challenges and opportunities to the design of cities, and that therefore architects should 'critically engage' with these developments (see here, here, here, and here). This evening should therefore give some insights into the question if and how architects are indeed doing so. I'll give my conclusions of this evening right away. It turned out that architects are indeed taking notice of new media. Two of the six parallel sessions that took place explicitly dealt with media and technologies (one about social media, one about BIM). At the same time there is still a world to explore. For instance, the session about social media hardly ventured beyond their use as instruments for communication strategies. Almost no attention was being paid to digital technologies as instruments to design with-, or as an integral part of a concept (to design for-).
Architects must make choices
First plenary speaker was Jan Griffioen from Griffioen Architects, an allround mid-size bureau. Griffioen is also a commission member of the BNA research fund. In this age, Griffioen argued, architects must search for clarity and redefine their position. Architecture has become a very diverse and increasingly muddled field. It is time to make choices, Griffioen insisted. These choices need to be made at the four levels that are part of a well-developed business plan. (1) First, architects must define their vision and mission. Instead of trying to do everything, they should establish their unique position in the field by formulating an answer to questions like what kind of architect am I?, where do I position myself in the field?, and where can I add the most value?. (2) Second, architects must define their approach. This means answering questions like how do I want to work?, what kind of business do I want to run? (e.g. with friends or family; formal or informal?), what external partners do I want to collaborate with? (e.g. a traditional company or a networked organization of freelancers?). (3) Third, architects must concern themselves with marketing & communication. This means exploring the question how do I make myself known to the world? Architects must choose their preferred methods and media for communicating about their work. (4) Fourth, architects must choose what activities they will be doing. This involves defining what am I going to do?, what annoys me, what do I want to improve?, and who do I want to address?
Griffioen observed that many architects feel that they have been robbed of their traditional specialties. Sketching, modeling, construction, execution, and so on are increasingly outsourced to others. What is left for the architect? New technologies also provide new opportunities, he says. For instance, thanks to Building Information Modeling (BIM) architects can oversee and coordinate the collaboration between all parties involved.
After this "just do it!"-type talk, it was time to move to the breakout sessions. There were two rounds of six sessions each. I opted for those that explicitly dealt with media and technologies (social media and BIM).
How can social media help architects?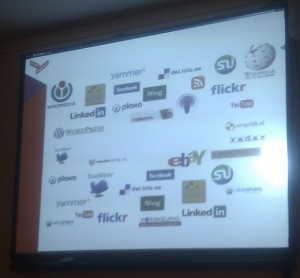 The first session I attended was the social media session. Speakers were Elly van Wattingen (Syntens), and Carl Kerchmar (StudioNUM and Portal To Your Dreams). Elly raised the question "how can architects use social media effectively?" According to her, architects should use social media to interact with their peers and be visible to the outside world. It is very important not to use social media for sending only but also to interact with others.
She presented a large number of examples. HM architects put a moodboard on their website for customers. Unexpectedly, customers put it Facebook and shared it with friends, thus spreading the name of the office. Heijmans Real Estate uses a Facebook page to communicate about their projects as a way of "image building". The Netherlands Architecture Institute has developed an augmented reality app that unlocks Rotterdam's past, present and future (realized or imagined), and can also be used as a platform to present plans to clients. The website Projektplek offers a secured and collaborative online project space. Linkedin can be used to build up a network, and follow and participate in relevant groups. Architects can also maintain their own weblogs, a great way to share knowledge with others and acquire a reputation as an expert. One example is Architect 21 by Anette van Apeldoorn. Another example is Anet, a network of architects maintained by Bjorn van Rheenen. One can use Twitter to interact with others, like BNA's Fred Schoorl, or to coordinate affairs  between a project group ("hey, where are my drawings?"). Or Twitter can be used in innovative new ways to harvest information, like XML's Twitterhouse.
Second up was Carl Kerchmar, a media developer and technology trendwatcher. He talked about a concept for a business area enhanced by media technologies called CloudMrkt, which he is developing together with an architect (see StudioNUM). CloudMrkt proposes to deliver a crowd sourcing toolkit for a local business area. The idea is that multiple entrepreneurs can tap into and contribute to a common pool of resources, from sharing internet connections and software (thus reducing costs) to sharing physical meeting spaces. This could be a way to augment otherwise unattractive commercial areas, like Amsterdam's Westpoort. The concept is still under development. This seems an interesting attempt to explore new opportunities for urban development with the aid of digital media technologies. We'll keep an eye on how they develop this plan in the future.
There were some pretty skeptical questions among 20-30 architects or so present, especially among the older generations. Why should I use it? What's the use of connecting with someone via a network? How do I cope with the torrent of information? Isn't this a waste of time? Why should I be interested in someone's private affairs? The speaker had a hard time explaining the change in mindset needed to engage with social media.  Older architects in particular seemed to be largely unconvinced of social media as a way to communicate about one's work and share information. To come up with creative and innovative new ways to use social media as part of the design process itself then appears an even bigger leap. I couldn't help getting the impression that many architects remain unwilling to engage with new media in their profession. In that sense, little progress seems to have been made since our 2009 talk at the Day of the Young Architect, when just half of the young architects indicated that they recognized the profound influence of new media on their profession.
BIM: the gamification of architecture?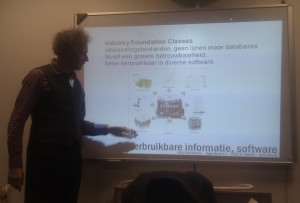 In the second session Aart van der Vlist from VDVZ architects presented the possibilities and challenges involved in designing with the aid of BIM (Building Information Modeling, read more here), a software-based 3D modeling environment. The main advantage of BIM, he asserted, is that all phases of the building process can now be overseen and managed. BIM is a comprehensive method to integrate the design, the execution, and the actual facility management. Time planning now also becomes part of an architect's work ("4D planning", he called this). BIM offers a number of advantages:
Collaboration: databases are interchangeable between stakeholders and between various software packages; cloud storage services exists for easy cooperation between multiple parties.
Risk management: the software has advanced error checking built in. Moreover, in each phase a validation moment can be built in and progress can be discussed with the client.
Cost reduction: bypass the middleman and directly deal with factories that deliver materials and products.
Environmental benefits: BIM minimizes the loss of material, time, and energy by much more sophisticated calculations of needs.
There are also a number of (potential) problems. A contractor may not yet use the software, files easily get very large, synchronizing and version management between multiple parties is tricky, and local legislation is not yet integrated into the software. Moreover, some in the audience raised a concern for protecting their intellectual property: what if someone runs away with your ready-to-make files?
Van der Vlist argued that BIM is not only useful for big, complex projects and big agencies, but also for smaller projects. Very precise instructions can be given to the lumber factory, so that the craftsmen at the building site merely need to assemble from pre-fab elements (a further blow to Sennett's craftsmanship?). Van der Vlist noted that older architects have a hard time learning how to work with BIM, whereas young people – who are used to 3D gaming – have no problem at all. With BIM, urban design increasingly takes place in a simulation environment. At some point I asked Van der Vlist in what way his work was any different from that of game modelers. He answered that architects and game designers have a lot in common, and that he himself considered game design an inspiring example. Of course architects in the end build things for the physical world, but the virtual and physical are definitely intersecting, he said. What's more, BIM allows architects to play with a host of design parameters and uncertain outcomes, whereby each change leads to a new configuration. In that sense it can be argued that architecture too becomes part of a broader cultural shift towards 'gamification', i.e. the application of game principles outside a bounded game environment (albeit without the instant gratification of earning points).
Conclusion
Is a new generation of architects truly arising, as a Dutch television series (in Dutch) is currently looking into? The organizers could have done better by inviting a younger generation of architects to present some best practices. At past events organized by The Mobile City, innovative young architects have presented work in which they explore how information derived from social networks can be fed back into the design program, or how the balance between producers and end-users can be tilted by using social media for user-specific architecture. These new opportunities were largely ignored this evening. As said above, the need to rethink one's own profession was felt profoundly among those present. The downside of this 'inner turn' seems that many remain too myopic to look outside their own frames and consider how other professional fields can help lift the next wave of architecture.