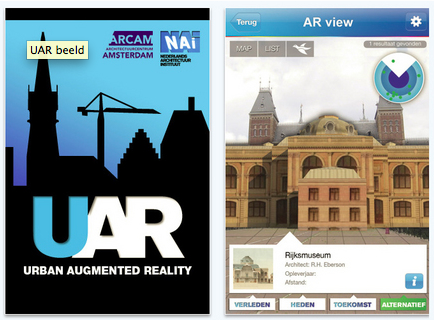 Last week our friends & collegues at Vurb and Non-Fiction organized an evening about the opportunities of Augmented Reality for architects. Layer-developer Johannes la Poutre presented some of his recent projects, and Ole Bouman – director of the Netherlands Architecture Institute – was interviewed about SARA – an AR-app developped by the NAi.
It was an interesting evening, that showed us the opportunities of AR. Yet at the sametime the conclusion was drawn that this new medium is still very much in an experimental stage. There are still quite a few issues to be solved as well as open ends to what exactly this new medium is and who it belongs to.
More about that further down. Let's first have a brief look at the projects showed, that interestingly focused on two different aspects of AR: AR as a platform for architectural form and AR as a tool for organizing social processes in space.
AR as a medium for representation of architectural form
Ole Bouman showed SARA the AR-app that the NAi is currently working on. It is a highly interesting and ambitious example of AR as a platform for architecture, or AR as a medium to showcase projects:
with SARA, an urban augmented reality application, you can see and experience the built environment of the past, present and future, via Layar Browser. The NAI has set itself an incredible challenge: to make the Netherlands the first country in the world to have its entire architecture viewable on smartphones thanks to augmented reality.
What is interesting about SARA is that it not only functions as an annotated tour through Dutch cities, revealing bits of background knowledge concerning the architecture that is visible to the eye and the mobile phone camera. It can also project images of the past and the future on top of existing reality. Users can watch historic buildings that once were present at their current site, examine alternatives (in the case of competitions where different architect have sent in proposals), projects that were never realized, or future buildings.
In Rotterdam for instance, SARA-users can take a look at the Market Hall, a giant structure designed by MVRDV. It can even be rendered in 3D, so that users can virtually walk through or around the building that is to appear there in a few years time.
Ole Bouman sees interesting opportunities here for architects. This new technology enables them to launch all sorts of future plans –  from the functional and realistic to the utopian and provocative. Whether it can actually be build (according to either current construction technology or financial or procedural logic), doesn't matter. Architects can thus take up their role as storytellers, by showing us alternative realities and futures for our cities through AR. Bouman 'For me, architecture is not limited to the construction of the physcial. It is about organizing spaces inteligently. For instance, the paintings on stained glass in a cathedral are technically not architecture. They are made by artisans that added to the builded process. But of course they add tremendously to the experience of the church, by giving medieval visitors a connection with heaven. In this way they contribute more to the experience of space than the bricks and mortar do.' Perhaps AR can fullfil a similar role?
With SARA the NAi also wanted to reflect on the role of musea in society. Ole Bouman: 'Most people know us as state archieve. We have 18 km of stacked historical sources, that is an amazing container of physicality.' Yet, when a medium arises that is able to represent the history and future of architecture on site, may be we will no longer care so much about physicality, Bouman conjectures. 'We want to anticipate what might happen to architecture in the future'
AR as a medium for organizing social processes in space
The projects that developer Johannes La Poutre of Squio.nl has been involved in addressed a different dimension of architectural practice: the organization of social practices in space. La Poutre showed us a few layers that he (co-)developed for the Layar AR-browser on the mobile phone.
For instance Tweeps around is an AR layer that allows you to see what has been tweeted about the space that you are in. "Tweeps Around queries Twitter for posts for which an exact location is given. All posts within a certain distance from your current location are shown."
Similarly his Verbeterdebuurt-Layar (the dutch equivalent of Fixmystreet.com) displays nearby suggestions given by citizens to improve the neighborhood.
Copenhagenlayer was a project executed during the climate summit last december, that mapped 'live enviromental measurements taken by Sensaris Senspods strapped to bike messengers plying the streets of Copenhagen' on an Augmented Reality Layer. The central idea is that with your mobile phone you can access live data about the air quality of your current location.
Although quite rudimentary, this could be a promising direction for future research, where crowd sourced measurements of environmental data are aggregated and made accessible to the public at large. The project reminds me of Biketastic by the Cens-lab in Los Angeles that aims to use censor technology to collaboratively map the most attractive biking routes in LA. I think this is an interesting direction in information design and potentially can impact the way we move through and experience our cities.
Current limitations and challenged of AR
So while the opportunities are huge, in the discussion also lots of shortcomings of the current day technology were brought up.
First of all, the processor speed of current mobile phones and exactitude of GPS signals makes the experience somewhat akward. Walking through virtual models is not yet a smooth experience. If Moore's law doesn't let us down, this is something that can be resolved in the near future
Second, there is the issue of the immersive capacities of AR through the mobile phone browser. Can users through their small mobile phone screens really be immersed in an AR-experience? Or is it more like watching through a keyhole? This is a more serious problem. Larger screens will solve this problem, but larger screens are also less portable. Or do we need projection technology, or AR-contact lenses for the medium to fully take off?
Third there is the fallacy of spatializing information. Currently lots of layers available in AR consist of existing datasets mapped in 3D (for example houses for sale nearby). Yet while  adding such a third dimension may look sexy, it does not always necessarily make the dataset more intelligible. Sometimes an abstract two-dimensional table or 2d map may be much more effective in communicating a message than adding data in 3d to the real world. How do you meaningfully visualize (agregated) information in a 3d, augmented reality environment? This will remain an important search for information designers in the next few years.
Fourth there are issues of control and authorship. Currently in their rendering of future projects, architects are able to control the point of view and select favorable perspectives. But what if prospective clients and public can actually inspect the whole building in 3d on site? Once a rendering is available through AR, does the architect loose control? This is not so much a shortcoming of AR itself (rather it is a feature of new media technologies in general that traditional professionals loose their control over their content), but might make architects exercise restraint in embracing the use of AR. (On the other hand, this also offers opportunities for bottom-up appropriations that could make the medium more interesting).