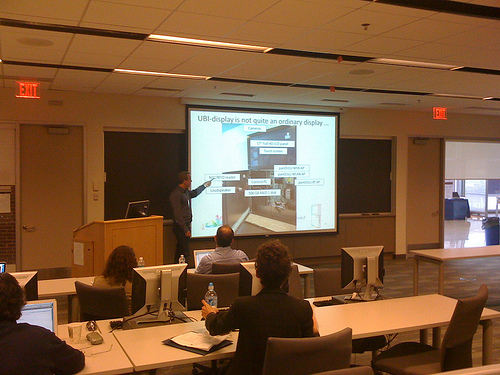 I attended the Digital Cities 6 Workshop this week in State College Pennsylvania (put together by Marcus Foth, Laura Forlano and Hiromitsu Hattori, thanks for that!).
The workshop started from the notion that with the advent of urban informatics, it is now possible to collect large collections of data about the behaviour of people within the city. However:
… a large quantity of detail does not necessarily result in a great quality (and clarity) of meaning. How do we analyse this data to better understand the 'city' as an organism? How do the cells of the city cluster to form tissue and organs, and how do various systems communicate and interact with each other? And, recognising that we ourselves are cells living in cities as active agents, how do we evaluate the effectiveness and efficiency of the processes we observe in order to plan, design and develop more livable cities?
Although the presentations were varied, many presentations especially addressed the notion of urban public space: How is it characterized? What are the changing dynamics? How do we animate public spaces with new media technologies? These questions were also related to issues of agency and power (who gets access to public spaces on what conditions?). Another issue that came up was a contrast in approaches. On the one hand, some architects and governments apply urban media and ubicomp in a top down manner, designing ubiquitous computing services with predefined capabilities. This was contrasted to an open source approach where users (or participants) could take part in the design of services. Or where they would be provided with tools rather than closed and finished products.
Climate on the Wall & CO2nfesssion/CO2mmitment
Jonas Fritsch (also representing co-author Martin Brynskov) from The Center for Digital Urban Living presented two projects took part in staging in the Danish City Aarhus: Climate on the Wall, an interactive media façade where people could write their climate slogans with speech bubbles on the wall of an exhibition building. And CO2nfesssion/CO2mmitment, a video booth in which people could tell about their bad climate habits and also commit themselves to a more active fight for the climate. These videos were then broadcasted on screens attached to bus stops throughout the city.
I found the Climate on the Wall a really impressive example of an interactive mediafacade, based on the idea of 'magnetic poetry' (as found on your fridge door), where you can build sentences by dragging words in a particular order: 'If a person stopped [somehwere along the projection], the word above the person would grow and turn into a speech bubble. This word could now be dragged to a different part of the facade. In this way, people were able to create and manipulate sentences relating to climate change.'
Both projects were meant as
an investigation of the relation between engagement and information. Inherent in this investigation is the question of how it is possible to design large-scale interactive urban systems that can spur concrete actions from the users in relation to a given subject.
They seemed to be based on an interpretation of the urban public sphere that focuses on its role as an arena for (political) discussion and engagement. The idea was that by playfully engaging people through these media-installations, this would lead to debate, discussion, awareness and or action.
The results were mixed. Both in the video booth and with the interactive media facade it was quite hard to provoke a serious debate. The interactive wall was designed to have a playful element, but this also meant that people liked to play with it rather than engage in discussion. Some started even to play in subversive ways. In both installations, people weren't overly interested in serious argumentation. As Fritsch stated: 'often people just wanted to drink a beer'.
Does that mean that the projects were a failure? I don't think so. The research also showed that discussions on the topic did arise, just not always in the content the users generated in the installations themselves. Rather more informal discussions took place amongst people standing around the installations. People also did like the playful aspects of the installations.
For me this led to an interesting insight: Installations that aim to reconfigure urban public space into a space for debate and exchange, should aim to be a conversation piece rather than the conversation itself. They should focus on gameplay, not on rethorics. Of course the gameplay should be related to the theme, but it should present starting points for a conversation rather than that discussion itself. Could this be an interesting approach?
Cocollage
Joe McCarthy featured his project CoCollage – a series of screens to be displayed in places where people come together to socialize (or Oldenburg's 'Third Places'). The idea is to
[bring] the richness of online social software into a physical community space. The system shows photos and quotes uploaded to a web site by café patrons and staff on a large computer display in the café, providing a new channel for awareness, interactions and relationships among people there.
CoCollage from CoCollage on Vimeo.
CoCollage is meant to bring back some of the conviviality that disappeared from local coffeeshops when people started dragging along their laptops:
Although many cafés and coffeehouses are designed to encourage conversation and community, the growing proliferation of technology, especially laptops and mobile phones with wireless Internet access, is rendering many such places "physically inhabited but psychologically evacuated" [2]. Café patrons often use technology to tunnel out to their online social networks, while ignoring the physical community in which they are situated.
(see for a related discussion my earlier accounts of Starbucks Urbanism)
Cafe patrons can make up an account (and link it to existing social networks such as Facebook or Twitter). Whenever they use their loyalty card in the cafe, the display will start showing photo's and texts from their profile. They can also vote and comment on other persons' content. The system in currently in use in 24 places in Seattle.
CoCollage extends a notion of public space that reminded me of Jane Jacobs, Lynn Lofland and Claude Fischer's theories coined in the 60s and 70s. They conceptualized public space not so much in terms of debate and discussion. Rather for them public space is a place where trust and public familiarity between different citizens can be built through repeated interactions in everyday life. People learn more about each other by observing each other over time, even if many of their interactions are the trivial every-day-life-kind-of-type. A similar process could be sparked by the on screen representations of cafe patrons. It would be possible to learn more about each other from the photos and texts on screen over time. (Of course patrons would have to be willing to engage in the digital data ecosystem of loyalty cards and online profiling sites which is not unprobelmatic by itself)
Two things could take off from there: people could discover similar interests, use the screen as a conversation piece and build up meaningful social relations.
It could also contribute to a type of urban community that Jacobs has described: this is a rather individualistic notion of community where we know just enough of each other so we feel comfortable to share places with each other, but not enough to become part of the scrutinies of social control that come with tighter and more collective forms of community. This line between privacy and publicity is a fine one, as Jacobs noted a few decades ago:
under this sytems is it possible in a city-street neighborhood to know all kinds of people without unwelcome entanglements, without boredom, necessity for excuses, explanations, fears of giving offense, embarrassments respecting imposition or commitments, and all such paraphernalia of obligation which can accompany less limited relationships. It is possible to be on excellent sidewalk terms with people who are very different fro oneself, and even, as time passes, on familiar public terms with them.'
Although we could argue whether the Jacobsian notion is still valid almost half a century later, and what exact the role of 'publicity' is in our current age in the forging of communities and identities, it is interesting to note that McCarty found some similar observations. Although users like the system, some of them made it clear that they rather not want to get too close to the other patrons. There still seems to be a fine line of how much we want (or need) to reveal about ourselves to feel part of a community, and how much we rather keep private.
UbiCity / UbiOulu
UbiOulu (Finnish version) is a very ambitious and highly interesting research program from The UBI (UrBan Interactions) Research Program at the department of Electrical and Information Engineering of the University of Oulu, Finland. They are running a pilot in which they have build a ubicomp infrastructure for the City of Oulu that includes different communication networks (wifi, bluetooth, sensor networks) and 16 interactive touch screen displays throughout the city.
Their approach of the city and public space contains notions of both what I have called U-city and U-citizen. On the one hand, it contains a lot of practical tools that can make city life more efficient – such as bus time tables with real time information. On the ohter hand, there are also features that try to promote interaction between citizens and the shaping of a community.
There are two important notions behind this project. The first is that
open pervasive computing infrastructure in the public space [is] a prerequisite for conducting urban computing research with visible and lasting impact on the community
The idea of public space in relation to ubicomp means not only the development of particular services and tools, but also the development of an open infrastructure so that users and third parties can become co-developers rather than just passive users.
The second notion behind the project is based on a harsh critique of research and development in the field of ubiquitous computing. Researchers, institutions and funding organizations are too much focused on the new new thing, and not enough on developing sustainable models. Demos and prototypes abound, but projects that actually work and are practically usable are hard to find:
The research community values novelty over high-quality implementations and good engineering practices. This leads to 'reinventing the wheel' in tiny increments, which may be worth yet another publication, but very little else to the community, as they are not shareable due to their poor engineering.
They want to counter this trend by making a long time investment and rolling out the system, studying and developing it over a number of years.
The team has just started to roll out the project and the first presentation that Hannu Kukka (also representing professor Timo Ojala) gave at the workshop looked interesting, although my first impression was also that this is still a very technologically driven project (as also becomes clear from the project description):
The aim of the project is to build new ubi infrastructure, such as large displays, sensor networks and software related to them, in downtown Oulu and to bring modern technology closer to everyman. With the help of sensors and large public displays, new kinds of innovative multimodal user interfaces that compose e.g. of a mobile device, web, different kinds of sensors and a large public displays, can be executed. Sensors enable the collection of different kind of information and various interaction models with the virtual world and intelligent environment. The infrastructure enables the development of innovative applications and services and strengthens the R&D resources and competitiveness of the Oulu region. UbiCity is part of a broader UBI program that aims to concretely enhance the utilization of ubiquitous computing and the services and applications based on it in information society.
Now that the project has been rolled out, it would be really interested to see what kind of content, services and applications will come into being in the future.